Mobile Library App
Stay connected to the Hastings Public Library anywhere with our mobile app
App Overview
The mobile app provides remote account management features and access to the library catalog from anywhere. Key features include: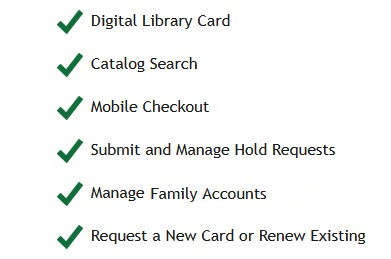 Get Started with the App
The app works on phones and tablets.
Download from your app store
Use the buttons below or go to the store and search for "Lakeland Library Cooperative".
Set Up the App
Launch the app
Choose your home library
Enter your library card number and PIN
That information will be saved on your device, no need to log in over and over again!
Use the App
Watch a Video About the App
FAQ
Q: Can I manage my children's/spouses account too?
A: Yes! Go to My Account, tap on Add Account and add another barcode and PIN.
Q: Do I have to have my physical card with me if I have the app?
A: No. The app has a digital version of your card available under My Account. That can be scanned in the Library if needed. Plus you can check out within the app itself, see the next question.
Q: I have the app, do I still need to use the self-check or go to a desk to check out my materials?
A: No. In the app, go to My account and then Mobile Checkout. Scan the barcode on the book/DVD/etc., and it will check out to the account associated with the app. If there are multiple accounts setup, you will be prompted for which one to use. You can even request an email receipt!
Q: Can I request or renew my card with the app?
A: Yes! Tap Renew/Get a Card on the home screen and fill in the form. Note you must include a photo of your picture ID. Someone from the Library will contact you when your card is setup or renewed.
Q: I am new to the Hastings Public Library, can I request my card in the app?
A: Yes! Install the app, select the Hastings Public Library, then tap "Continue as Guest", and finally tap on Get a Card to request one.

Q: Can I see what I have checked out?
A: Yes! Tap on My account and then Checkouts to see your items and their current due dates.
Q: Can I see my Holds with the app?
A: Yes! Tap on My Account and then Holds to see currently requested items. You can also cancel, freeze and unfreeze hold requests here.
Q: I don't see what I want when searching the catalog. Can I still request through MelCat?
A: Yes! Tap on Research and Databases on the home screen and then select MelCat. This takes you to their webpage where you can search for the item and request it. Note: you will have to enter your library card number and PIN here, MelCat does not communicate with our app.