Library of Things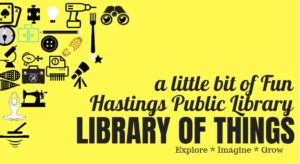 The Library of Things (LoT) is a unique collection of physical items that can be checked out just like books. We have a diverse collection ranging from sewing machines to metal detectors to snow shoes.
Any Lakeland Library Cooperative patron 18 years of age or older can check out LoT items in person at the library. Bring in your library card and an ID, review & sign the LoT Agreement and enjoy your item for one or three weeks depending on the Thing.
Notes:
LoT items cannot currently be held or renewed.
Thing availability subject to change.
Catalog of Things
Get Outside
Play
Fitness
Learning for All Ages
Get Crafty
Tools
Home Office
Technology & Electronics